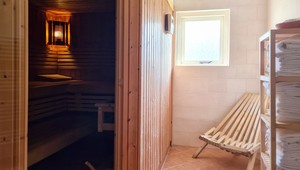 HOTEL WITH SAUNA
The Van der Valk hotel with a private sauna provides the ultimate Texel experience. Optimal relaxation in the sauna after a day of exercise and adventuring around the island provides an extra boost of energy and deep (er) sleep. Our hotel with sauna is exclusively for hotel guests and only available on the basis of reservation. The sauna is accessible for a maximum of 2 people and has a Finnish sauna, (cold) shower, toilet, and changing facilities.
OF THE SAUNA IN THE PUB
You can make your stay in our hotel with sauna even more pleasant by having a drink in our atmospheric pub after your sauna visit. In the sauna, body temperature can reach 39 degrees Celsius. The blood vessels dilate and the sweat glands are activated. During a sauna visit, one loses a lot of moisture. Because the fluid is removed from the blood, it will decrease in volume and thus the blood pressure will drop. In addition, the sauna heat has a relaxing effect on the mind and on your muscles and joints. It is essential to end the wellness "cool" by taking a cold shower. The cooling is refreshing and has a stimulating effect on important organs. When the head is cool again, the moisture balance must also be brought back up to standard. Water is of course the best, but (herbal) tea and fruit water also have a beneficial effect. Coffee, black tea, and alcoholic drinks are more likely to have a drying effect. Still in the mood for a 'Texel Juttertje'? Then ask for a glass of water.
PACKAGES IN COMBINATION WITH THE SAUNA
Van der Valk Hotel Texel – De Koog has various packages, all including sauna use if a reservation has been made for this. For example, it is possible to stay for 3 nights and pay for 2 nights. The 3 = 2 package consists of three nights including breakfast based on 2 persons. Free use of the sauna, free parking and use of the WiFi network is also included in the package.
Book the Van der Valk hotel with a sauna and plan your sauna visit!