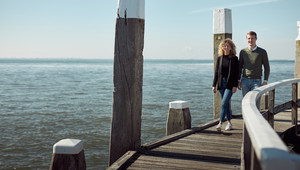 About us
With more than a hundred hotels in the Netherlands and abroad, Van der Valk is one of the largest family businesses in the Netherlands. Founder Martinus van der Valk has taken care of more than 800 family members. In January 2021, the Langebeek-van der Valk family took over Hotel De Pelikaan on Texel.The family also runs two more hotels in the north of the Netherlands. The three sons of Tjomme Langebeek and Corry Van der Valk are in charge of the daily management; Stijn Langebeek in Hotel Groningen-Hoogkerk, Sjoerd Langebeek in Hotel Drachten and Derk Langebeek in Hotel Texel-De Koog.
VAN DER VALK HOTEL TEXEL - DE KOOG
Derk Langebeek goes back to the roots of his grandmother Corry van der Valk-de Wit (1926 - 2017) and builds on the future of Van der Valk Hotel Texel - De Koog. 'Oma Corry' was born and raised on farm "de Vooruitgang" in De Cocksdorp on Texel. Van der Valk Hotel Texel - De Koog is a dream come true and where new family stories will be written.

INTRODUCE
My name is Derk Langebeek (4th generation of the Van der Valk family) and with Lisa (van Esch), I moved to beautiful Texel, in connection with the takeover of Hotel de Pelikaan at the beginning of 2021. We are proud that we received the opportunity and the confidence to transform the hotel into Van der Valk Hotel Texel-De Koog. After we both have completed the hotel school and have gained years of experience in different hotels, we are ready to run the first Van der Valk location on the Wadden Islands on the beautiful Texel. We look forward to a bright future on the Wadden!
OUR MISSION & VISION
Van der Valk is a name with color. Full of passion and rich in history. We want everyone to be able to enjoy comfort outside of our home. Comfortable enjoyment is not necessarily about luxury, but always about personal pleasure. We understand this better than anyone and want to make extraordinary comfort accessible to everyone. We are a trusted address. To spend the night, to dine, and to gather. With us, everyone will find what he or she is looking for: business and relaxation between city and country. Our services are tailored to the needs of our guests. Surprisingly filled with sustainable local élan. Van der Valk is a family business that stands for friendly service with a surprising interpretation. Strikingly different. Permanently trusted. In this way, we bring personal comfort close by.